We Are Open During Regular Clinic Hours! We've taken precautions to ensure your health and safety. Call or text us with any questions or to schedule your visit.

MEET THE TEAM
Welcome to Cruz Hearing Aid Service. We look forward to helping you with your hearing loss.
Meet the team »

HEAR FROM PATIENTS
Find out what others in Farmington Hills, Taylor, & Waterford Township, MI say about our hearing services.
See what others are saying »

WE'RE HERE TO HELP!
Struggling to hear? We can help find the right solution for you!
Contact us today »
Cruz Hearing Aid Service: Your Hearing Aid Experts in Farmington Hills, Taylor, & Waterford Township, MI
Singing birds. The whir of city life. An alarm clock. Raindrops hitting the windshield. Those are just some of the many sounds we often take for granted. But for those with hearing loss, it's a different story. Hearing loss can muffle the joy of your existence and make you feel like an outsider in your own life.
At Cruz Hearing Aid Service, we understand how important your sense of hearing is to your quality of life as well as your health and happiness. We can help restore your hearing so you can continue to do the activities you enjoy, whether it's going to work, watching movies or playing with your grandchildren.
We also know that some individuals are unable to visit our clinic. That is why we continue to provide our at-home service for those in need. Virtually all of our services can be performed in the home, including ear wax removal, hearing tests and the fitting of new or repaired hearing aids.
Don't suffer in silence. Discover today what we've accomplished for so many others in Farmington Hills, Taylor, & Waterford Township, MI who were experiencing hearing loss. Through our services, we've helped hundreds of people just like you regain control of their lives. We can help you too. Our hearing solutions and sound advice can help make speech clearer through highly sophisticated hearing technology. We can also offer effective strategies to make communicating with family members, friends, and colleagues easier. Better hearing is just a phone call away!
Take the first step toward better hearing. Contact us today!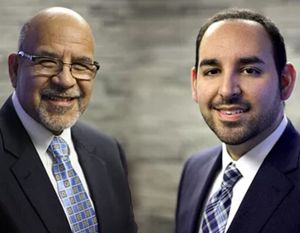 Felix Cruz, BC-HIS and Joshua Cruz, MBA
Why wait? You don't have to live with hearing loss.
Why wait? You don't have to live with hearing loss. Our 10-Day Test Drive is done at no charge and with no obligation for all individuals, whether you are a current Cruz Hearing Aid Service patient or a soon-to-be one.
1. You'll increase your self-confidence.
When you can carry on a conversation, and can clearly hear what others are saying, you'll not only feel smarter, you'll act it, too.
2. You'll improve your relationships with family and friends.
When you hear better, it makes it easier to communicate and stay connected.
3. You can increase your income.
You'll enjoy work more and you won't miss out on opportunities because of hearing loss.
4. You'll feel better physically.
Hearing loss is directly correlated to increased hospital visits. With better hearing, your balance may improve and you'll be healthier and happier, too.
5. You'll enjoy life more.
With better hearing, you can live life to its fullest.
Why Choose Cruz Hearing Aid Service?
We love helping people reconnect with those they love through better hearing. Our passion is helping you hear better so you can enjoy your passions, too.
We help you understand what type of hearing loss you have and the best solutions that are available to you, so you can make an informed buying decision—one that will make you happy.
While there are lots of options out there, we've researched and tested hundreds of hearing aids and only carry the best.
Once you've selected the best hearing aid for your hearing, your lifestyle, and your budget, we program it for perfection—ensuring that you achieve the highest sound quality.
Then we follow-up with you to fine tune your hearing aids to work optimally.
Your satisfaction is our biggest concern.
Why wait? You don't have to live with hearing loss.
Why wait? You don't have to live with hearing loss.